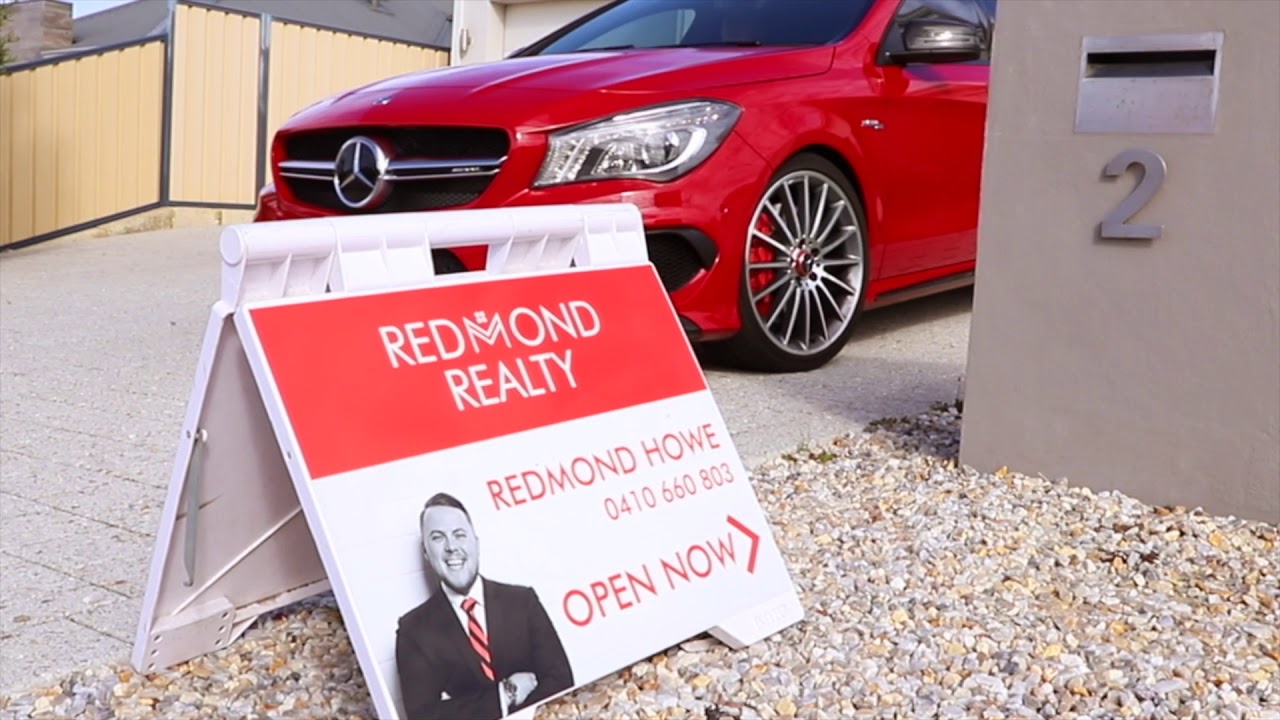 Welcome Home!
Established in 2018 by Redmond Howe himself, Redmond Realty is a mobile, hi-tech agency that combines the utilisation of old-school selling service and traditional methods with state-of-the-art electronic-signature facilities and technology. Operating seven days a week and 24 hours a day, Redmond Realty's virtual-administration team is on standby for buyers and sellers whenever they require assistance. The crew also provides specialist subdivision advice from start to finish, offers unbeatable selling and marketing fees and is the best value-for-money agency in Perth due to low overheads – just ask our clients. Listing everywhere in Perth from Floreat to Yanchep, we have sold homes for some of the highest sale prices in over 20 different metropolitan suburbs. Considering ourselves as a modern and futuristic, yet innovative, group, Redmond Realty gives our clients the opportunity to deal with the company owner directly, as well as our all-star team of highly-regarded sales representatives. For the best in Perth real estate, choose Redmond Realty today.
What we specialise in
• Selling all types of established and new residential property and large land estates in Perth, Western Australia at a premium level for the past decade.
• Honest subdivision and development advice to ensure a premium end sale result.
• Employ us as a buyer's agent to find your dream home, or a bargain.
• Urban planning and local council updates.
• Mortgage and rate recommendations from our affiliated finance brokers.
• Online property auctions & live auctions.
• Confidential obligation free, realistic market appraisals followed up with a selling proposal, detailing exactly how we would recommend selling your property for a premium price.
introducing THE REDMOND REALTY TEAM...
ABOUT REDMOND HOWE

CREATIVE DIRECTOR, AUTHOR OF "PROFIT FROM PROPERTY" & FOUNDER / LICENSEE 0410 660 803
Why Choose Redmond?
Redmond Howe is the Founder and Director of Redmond Realty, and a proud REIWA Corporate Member. Having achieved some of the highest sale prices in over 20 suburbs in the city so far, Redmond has established himself as a coastal property specialist and a household name in Perth's northern corridor. To date, Redmond has sold approximately $100,000,000.00+ worth of Real Estate and Property in Perth alone.
His career began in 2010 as a personal assistant to a managing director of a real estate company straight out of high school. Attention to detail and a drive to excel quickly set him apart from his competitors. In 2018, after identifying space in the industry for a technology and customer focused mobile real estate agency, Redmond Realty was born. Redmond's work ethic was recognised at the October 2020 REIWA awards where he was ranked as the #4 Top selling agent in the state and Redmond Realty was ranked #4 Top boutique office in the state at the March 2021 REIWA awards! Redmond Howe and Redmond Realty are frequent top 30 agent award winners in Western Australia.
Redmond is a modern, highly agile agent with an unwavering commitment to exceptional customer service, and a focus on mobility and technology. He deals directly with clients, from the comfort of their own homes, seven days a week. High sale prices and competitive selling fees have established him as the best value-for-money agent in Perth today. He is also an unparalleled subdivision specialist with a proven track record of maximising the value of vacant blocks of land.
A franchise company award winner for many years, and with over 85+ five-star reviews from sellers and buyers alike, Redmond Howe is a dynamic, highly motivated agent who lives and breathes real estate. Redmond is known for his non-pushy, genuine approach and always putting his clients first and foremost, if you would like an obligation free sales appraisal on your property, contact Redmond today! Available 7 days on 0410 660 803.
ABOUT GINA BUCKLE Licensed real estate agent - 0434 037 922
Why choose Gina?
A Licensed Real Estate Agent, Gina Buckle has an extensive background in Property & Land Sales in some of Perth's most desirable northern coastal areas, including Burns Beach, Iluka, Connolly, Currambine, Kinross, Mindarie & Quinns Rocks.
Gina first started her Real Estate career in 2006 and also spent several years at the West Australian Newspaper in Real Estate Marketing and Advertising, gaining a wealth of knowledge in Sales and Marketing strategies. A 'peoples person' and excellent communicator, Gina really listens to her Clients' needs, is highly customer focused, with strong negotiation skills and holds the Cert IV plus the Diploma of Property Services, which means you are dealing with the most educated and qualified industry Professional. Rest assured, Gina will provide you with an elite level of service which is second to none, combined with a genuine desire to help her Clients throughout the whole selling process and achieve the top sale price for their property.
Deciding to sell your biggest asset is one of the most important decisions you can make, choosing the right Agent will ensure the experience is stress free from the very beginning through to settlement. Gina is genuinely happy to go above and beyond for her Clients and is contactable 24/7 - Client satisfaction is her absolute number one priority. Call Gina today on 0434 037 922 or email gina@redmondrealty.com.au for a free market appraisal.
ABOUT ESMARI BRADLEY sALES ASSOCIATE - 0422 279 396
Why choose Esmari?
Esmari Bradley is an industry professional with the right attitude. She believes that integrity, honesty and a good sense of humour coupled with a great personality are the qualities that have contributed to her real estate success over many years.
Having arrived in Australia from South Africa in 2006 Esmari knew she made the right choice for herself to call Perth 'home'. Esmari loves Australia, the people and the lifestyle, she also thoroughly enjoys her chosen field of work, sales and customer relations.
Being passionate about her real estate career and delivering great customer service in a sales environment is what Esmari thrives on every single day. She is also very well regarded amongst her colleagues and is well-known for creating targeted marketing strategies that is tailored to each and every property she lists for sale.
Consistently striving to give her clients her undivided attention all the way through the sale process from the moment of listing, through to settlement and beyond. She has a 'client for life' approach which has led to her building some solid client relationships and even friendships over the years.
Esmari brings an incredible amount of industry experience to the table when you list your home for sale with her, she will go above and beyond for her clients and exceeds their expectations in every way, look no further than Esmari as you will be in safe hands.
Esmari can be reached on 0422 279 396 or esmari@redmondrealty.com.au for an obligation free sales appraisal anytime!
ABOUT BRANDON DEL FABBRO SALES ASSOCIATE - 0413 688 932
Why choose Brandon?
Community focused and a work ethic that is second-to-none, Brandon Del Fabbro brings a fresh and energetic edge to Redmond Realty. Brandon has a very strategic approach when selling homes and blocks of land for his clients and an unwavering determination that makes him a very well-respected individual. He is consistently excelling his client's needs and applies his "can-do" attitude to ensure he delivers fantastic real estate results for his clients.
Brandon believes that his strongest asset is his ability to listen to his client's needs and adapt his services appropriately. With his strong attention to detail and his ability to go above and beyond the call of duty, Brandon finds himself giving 100% commitment to every single sale or task he applies himself to.
Brandon has chosen to work for Redmond Realty because he loves their model, marketing and internal structure, along with the fact that he will be constantly surrounded by like-minded driven individuals such as himself on a daily basis. For a fresh and driven approach to selling your home or block of land, call Brandon today for an obligation free sales appraisal – he covers all areas in Perth! Call Brandon today on 0413 688 932 or email brandon@redmondrealty.com.au
ABOUT ALEA ENG SALES ASSOCIATE - 0411 403 999
Why choose Alea?
Selling your home is one of the biggest life decisions you'll make, and Alea Eng knows this best. That's why handling the process with compassion is what she prides herself on. To Alea, real estate is about so much more than just the transaction. From establishing a successful bridal store from scratch to selling homes in the northern suburbs, Alea understands exactly how important it is to have the right support at such an emotional time. As clients say, her first-class approach is attributed to her empathetic nature and genuine desire to help her clients. During every step of the way, Alea is there for you with her positive energy, forward thinking and expertise on your side. Whether that's implementing top-tier marketing or listening to your needs, Alea will do whatever it takes to have you feeling at ease. It's the little things that demonstrate her willingness to go beyond the call of duty to provide a professional and personal service – even after the sale! There's a reason why referral-based business is a common denominator in her success. When Alea isn't working, she's spending time with her family or cheering for the West Coast Eagles and Perth Wildcats. And as she'll tell you, she couldn't be more proud of her two sons! What Alea's clients love about her: "From the first contact, it was like dealing with an old friend I known for 20 years. Alea made us feel extremely comfortable. Her friendliness and professionalism gave us the confidence that she had our best interest at heart from the beginning. Alea sold our block in very quick time and made the whole process completely stress free… She is a credit to the industry." – Luke C. Aveley (seller) "Buying a house is hard at the best of times, let alone buying and relocating from another state! Alea Eng was fantastic from the very beginning… Although my brain was scrambled from the thought of moving across the country, and I probably made no sense at times, nothing was too hard for Alea... Working in the property industry myself I can say that good agents are extremely hard to find, but Alea is a breath of fresh air. I would recommend her in a heartbeat. Thank you Alea for helping us find the perfect family home." – M & T. Caulfield (buyers) Call Alea today on 0411 403 999 or email alea@redmondrealty.com.au
REAL PEOPLE... REAL RESULTS...
Every now and again, we all make decisions not knowing if we decided right or wrong but in this case our decision to employ the services of Redmond Realty to sell our home of 31 years was 110 percent correct. Their knowledge of real estate in regard to selling or buying is their forte but for us it was the personality and character and their ability to take the stress out of the selling process that for us was priceless. You get a personalised service from Redmond and Mark from start to finish, which is what we wished for instead of getting a general sales rep from a company. As man of integrity and honesty I can highly recommend Redmond Realty for all real estate matters.
Wilson G. - Mullaloo 6027
To whom it may concern, after two previous agents failing to sell my property and wasting eleven months of valuable selling time and money, I engaged the services of Redmond Realty to sell my property. The agenda I set was to sell my property within sixty days of being listed and still achieving a healthy sale price. Redmond Realty said, "They were up for the task". I was sceptical about the enthusiasm after having been there, done that with the two previous agents. True to their word Redmond Realty was able to attract a cash buyer in the second week and a fantastic result as requested. I would have no hesitation in recommending Redmond Realty to any potential seller in the area.
Call / SMS Redmond direct on 0410 660 803 for an appraisal
+614 106 608 03 (Overseas)
Connect on Whatsapp, Instagram, LinkedIn, Facebook and YouTube
redmond@redmondrealty.com.au
facebook.com/redmondrealty1
instagram.com/redmond_realty/
Redmond Realty PTY LTD T/AS Redmond Realty TC76123 RA70818 Licensed Real Estate Agency REIWA Accredited ACN: 624 625 234
All post: P.O. Box 48 Hillarys WA 6923 All rights reserved